Larnach Loop
Larnach Loop is a neat little loop easily ridden in 3 to 4 days.
Leaving our base you first head south on SH1 then turn right towards Geraldine. It's a small rural town but a great place for your first coffee or even to spend the night if you're inclined.
Continue to towards Fairlie, ahead of you is a 50km section of great riding, fast bends, good surface and light traffic, you'll love it. From Fairlie head towards Tekapo, now you have a couple of options, either turn off to the left at Dog Kennel Corner or keep on the main drag towards Tekapo.
If you cut to the left you'll be on gravel for the next 80km and might have to negotiate a couple of small fords. It gets pretty remote, you're unlikely to see more than the odd farm truck, or maybe a lost campervan for the next hour or two – watch out for wallabies (a small kangaroo) especially if you go through at night.
If you give the gravel a miss then you're in for a motorcycling treat as the road and views are fab all the way along SH8.
Tekapo has turned into a bit of a tourist trap so unless you want to get fuel, or a Made in China baby sheep toy, carry on to Twizel, not forgetting to make the obligatory stop at Lake Pukaki to photograpgh Mt Cook.
Whether you've gone left or right you'll eventually finish up at Omarama (hot tubs, glider flights, fly fishing) before heading further south over the Lindis Pass.
Again it's just some of the best riding you'll come across.
Follow the route to Wanaka (air museum, toy museum, Puzzling World) then head over the Crown Range (the highest sealed Pass in NZ) towards Queenstown, stop off for a drink at Cardrona Hotel on the way. It's worth a stop at the top of the Pass as the views are superb.
While you're passing why not drop into Arrowtown and for the adventurous follow the 'road' to Macetown and Be warned, this could hardly be described as road, it's little more than an unsealed farm track, you'll have to cross the river 20+ times which can be pretty deep so don't attempt this on a road bike or if the river is up – you won't make it.
Now into Queenstown for fuel and to take in the sights, before heading back east towards Cromwell.
If you're a bit of a petrol head don't miss Cromwells Highland Motorsports Centre, all manner of vehicles to drive from Go Karts to Ford V8s – treat yourself. From Cromwell follow SH85 towards Clyde (have a look at the dam) then on towards Naseby before turning south towards Clarks Junction and eventually Dunedin.
Larnach Castle lies on a peninsular a few km outside or Dunedin. It's really worth a visit and a great place to stay if you want something a little different – four poster beds and dinner in the castle comes highly recommended – accommodation is limited so best to book ahead.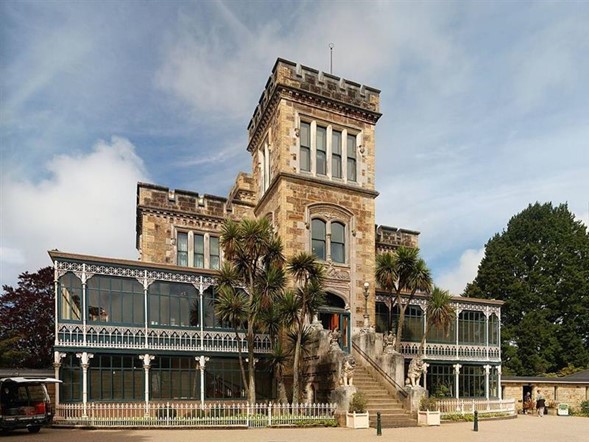 Explore the Larnach castle and grounds the next morning leaving a nice easy ride north on SH1 back to our base.
That will give you a small taste of what the South Island has to offer but there's still an awful lot of it left for next time…
Related links:
https://www.larnachcastle.co.nz/
Looking for a motorcycle hire? Review our motorbike range